About Genshin Impact: Primogem Giveaway 1.6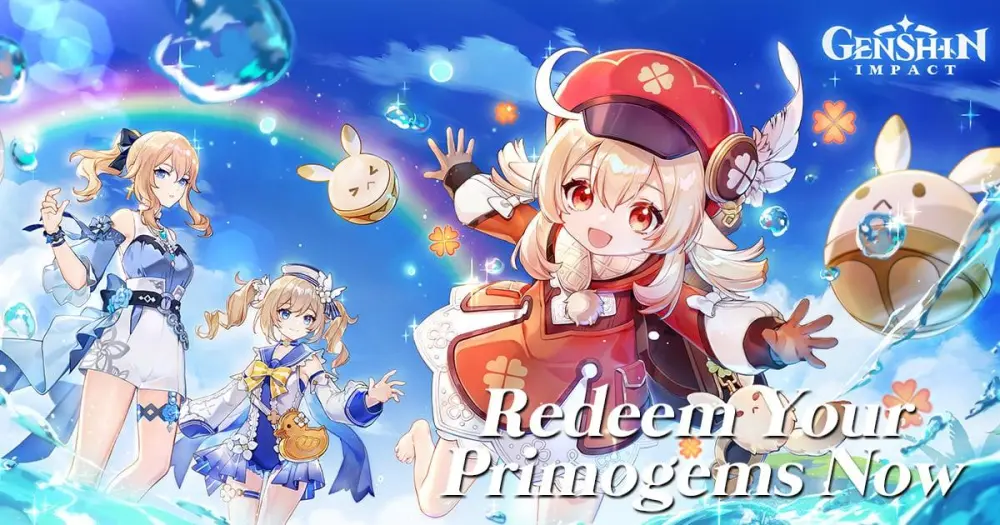 Get a chance to meet Kazuha and Klee again in Genshin Impact version 1.6 with these free Primogems!
The new Genshin Impact version 1.6 is introducing to us yet another new character, a returning favourite, and many more new things including the very new skin system! Known as Midsummer Island Adventure, the new patch will arrive on June 9, 2021, for for PC, Android, iOS, PlayStation 4, and PlayStation 5.
Genshin Impact is a free-to-play open-world action RPG that brings players to the visually stunning world of Teyvat. The player takes on the mysterious "Traveler" role, who sets off on a journey to discover the fate of the lost sibling and unveils the mysterious secrets of Teyvat along the way.
For more Genshin Impact events and even more chances to get free Primogems, remember to visit Hoyolab here!
How to redeem free Primogem?
Redemption is easy, and here's how you can get your code!
Open the game and enter the world.
Open the Paimon's Menu => Settings => Account => Redeem Code
For iOS users, go to Genshin Impact Redeem, and follow the presented steps.
* Note: Codes are available to players with Adventure Rank 10 or higher.
Terms & Conditions
Each account is limited to ONE code only.
You can only redeem ONE code for EACH Genshin Impact account.
These codes are strictly for end-user redemption only and not applicable for sale.
The giveaway will run while stocks last.
What to expect in version 1.6?
New Rerun Banner
Klee (5*)
Barbara (4*)
Fischl (4*)
Sucrose (4*)
New Character
Kazuha Kaedehara (5* Anemo Sword-wielder)
New Features in Version 1.6
In this new update, players can finally dress up their favourite girls from Mondstadt in summer-themed outfits!
Sea Breeze Dandelion Jean
This Jean outfit can be bought with 1,350 Genesis Crystal for a limited-time! However, after the promotional period, the outfit will still remain in store but will revert to the price of 1,680 Genesis Crystals. So, get them now to save!
Summertime Sparkle Barbara
Unlike the one above, this outfit can be obtained completely free! So, make sure to participate in the "Echoing Tales" event and collect Echoing Conches during Version 1.6! After the end of Version 1.6, the outfit will stay in store at the price of 1,680 Genesis Crystal.
Serenitea Pot: Companion Move-In
The new feature allows you to gain the trust of your companion and then invite them to your home realm! Each realm can host up to eight companions.
Wanna know everything there is to know about Genshin Impact 1.6? Check this video out!