About Lords Mobile
Lords Mobile combines open-space RPG, real-time strategy, and world-building mechanics. Its gameplay consists of several game modes, the most notable of which are PVP-battles. Players should develop their own base and build an army to attack enemy bases, destroy them, seize resources, and capture enemy leaders.

How to Redeem Lords Mobile Bundle Pack Redeem Code 
Go to Lords Mobile code redeem
Input your IGG ID and the code. (How to check my IGG ID: Settings → Account)
Redeem and check the items in the game.
FYI: IGG ID is the unique identification for every player in the Lords Mobile game.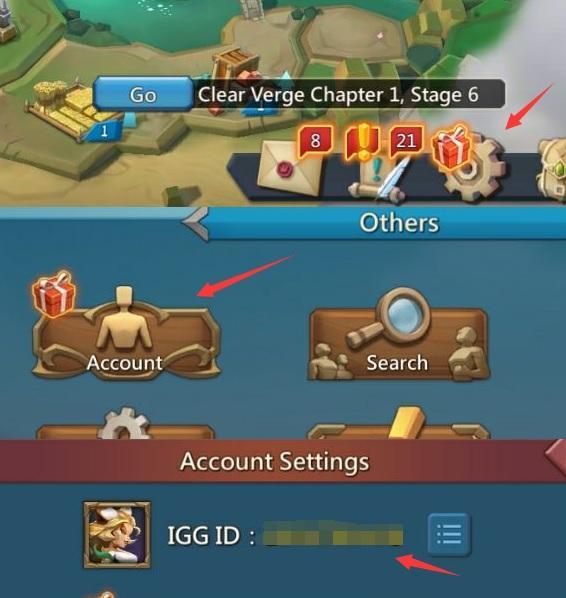 Various bundle packages are available for players. To purchase your ideal package, please refer to the below tables:
| Crowing Glory | Quantity |
| --- | --- |
| Fortune Chest | × 15 |
| Tidal Titan Chest | × 20 |
| Bon Appeti Chest | × 20 |
| Queen Bee Chest | × 20 |
| Mecha Trojan Chest | × 20 |
| 100,000 Gold | × 30 |
| 50,000 Stones | × 30 |
| 50,000 Ore | × 30 |
| 50,000 Food | × 30 |
| 50,000 Timber | × 30 |
| A Fine Day | Quantity |
| --- | --- |
| 1,000 Gems | × 5 |
| Ember Chest | × 5 |
| Speed Up Research(3 h) | × 10 |
| Tidal Titan Chest | × 15 |
| Bon Appeti Chest | × 15 |
| Queen Bee Chest | × 15 |
| 200,000 Gold | × 15 |
| 30,000 Food | × 15 |
| 10,000 Stones | × 15 |
| 10,000 Timber | × 15 |
| 10,000 Ore | × 15 |
| Let's Celebrate | Quantity |
| --- | --- |
| 1,000 Gems | × 15 |
| Archaic Tome | × 75 |
| Happy Hour | × 15 |
| Chest of Hasty Learning | × 15 |
| Chest of Hasty Coaching | × 15 |
| Champion Chest | × 15 |
| Slayer Chest | × 15 |
| Bon Appeti Chest | × 30 |
| Saberfang Chest | × 30 |
| Shaman Chest | × 30 |
| 100,000 Gold | × 45 |
| 50,000 Food | × 45 |
| 50,000 Stones | × 45 |
| 50,000 Timber | × 45 |
| 50,000 Ore | × 45 |
| Research & Development | Quantity |
| --- | --- |
| Speed Up Research(24 h) | × 25 |
| Speed Up Research(3 h) | × 30 |
| Gryphon Chest | × 30 |
| Noceros Chest | × 30 |
| 200,000 Gold | × 15 |
| 150,000 Food | × 15 |
| 150,000 Stones | × 15 |
| 150,000 Timber | × 15 |
| 150,000 Ore | × 15 |
| Material Madness | Quantity |
| --- | --- |
| Monstrous Chest | × 38 |
| Tidal Titan Chest | × 233 |
| Bon Appeti Chest | × 233 |
| Queen Bee Chest | × 233 |
| Mecha Trojan Chest | × 233 |
| Blackwing Chest | × 233 |
| Saberfang Chest | × 233 |
| Grim Reaper Chest | × 233 |
| Hell Drider Chest | × 233 |
| Maggot Chest | × 233 |
| Gargantuan Chest | × 233 |
| Terror Chest | × 233 |
| Wyrm Chest | × 233 |
| Snow Beast Chest | × 233 |
| Frostwing Chest | × 233 |
| 200,000 Gold | × 10 |
| 150,000 Food | × 10 |
| 150,000 Stones | × 10 |
| 150,000 Timber | × 10 |
| 150,000 Ore | × 10 |
| Boot Camp | Quantity |
| --- | --- |
| Training Boost (20%)(1h) | × 2 |
| Speed Up Training (24 h) | × 50 |
| Speed Up Training (8 h) | × 60 |
| Speed Up Training (3 h) | × 60 |
| Queen Bee Chest | × 50 |
| Bon Appeti Chest | × 50 |
| Tidal Titan Chest | × 50 |
| Blackwing Chest | × 50 |
| Saberfang Chest | × 50 |
| Mecha Trojan Chest | × 50 |
| 2,000,000 Gold | × 20 |
| 5,000,000 Stones | × 20 |
| 5,000,000 Timber | × 20 |
| 5,000,000 Ore | × 20 |
| 6,000,000 Food | × 20 |
| Gem Packed | Quantity |
| --- | --- |
| 10,000 Gems | × 12 |
| Shiny Surprise | × 12 |
| 200,000 Gold | × 12 |
| 150,000 Food | × 12 |
| 150,000 Stones | × 12 |
| 150,000 Timber | × 12 |
| 150,000 Ore | × 12 |