About New World
Explore a thrilling open-world MMORPG filled with danger and opportunities where you will forge a new destiny for yourself as an adventurer shipwrecked on the supernatural island of Aeternum.
There are endless chances for you to fight, forage, and forge what awaits you among the island's wilderness and ruins. Additionally, you can channel supernatural forces or wield deadly weapons in a classless, real-time combat system. Choose to fight alone, with a small team, or even in massed armies for PvE and PvP battles—the choices are all yours.
There are also several weapon skill trees of your choice, such as bow, hammer, hatchet, fire staff, life staff, musket, spear, sword/shield, and ice gauntlet.
New World Store Categories overview
The Store is split into several sections or tabs or categories (whichever best suits you).
The available tabs or categories are (in this order):
Featured Items
Consumables
Emotes
Armor Skins
Weapon Skins
Housing Items
Company Crests
Bundles
How to buy Marks of Fortune for New World Store
The Store in New World works with a special currency called Marks of Fortune. This currency can be purchased with your Steam Wallet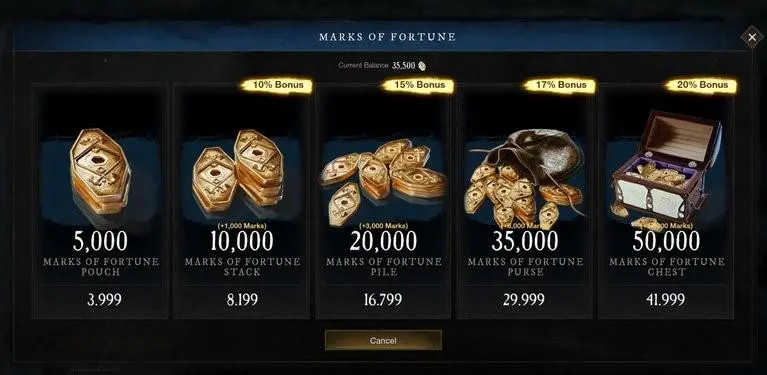 Prices for each Mark of Fortune package:
Buy 5000 Marks of Fortune = 3.99 Euro
Buy 11000 Marks of Fortune (10k + 1k bonus) = 8.19 Euro
Buy 23000 Marks of Fortune (20k + 3k bonus) = 16.79 Euro
Buy 41000 Marks of Fortune (35k + 6k bonus) = 29.99 Euro
Buy 60000 Marks of Fortune (50k + 10k bonus) = 41.99 Euro
The prices above are in Euro; it is based on local currency of your Steam account.
And please note that these prices may vary slightly depending on your location, currency and other factors, including some kind of a special promotion Amazon Games Studio (AGS) might decide to run from time to time.
All items from the New World Store are bound to your account. They can be used on any of your characters, but cannot be sold or traded to other players.
How to buy Steam Wallet Code?
Steam Wallet Code is STEAM's prepaid card used to deposit and reload the stated value into your Steam Account balance, SEAGM is the authorized store for Steam Wallet Code.
Where do I retrieve the purchased Steam Wallet Code?
You will receive your Steam Wallet Code in your My Game Card page.
How to Redeem Steam Wallet Code?
Follow the steps below to redeem Steam Wallet Code:
Login to your Steam account.
Go to Redeem a Steam Wallet Code page.
Click "Redeem a Steam Gift Card or Wallet Code"
Enter the Steam Wallet Code copied from your SEAGM Member account My Game Card page and click Continue.
The funds will be added to your account and be ready for use to buy games on STEAM!